Dmytro Sennychenko: Directing funds in the amount of 10% from small privatization to local budgets will stimulate investment in Ukraines economy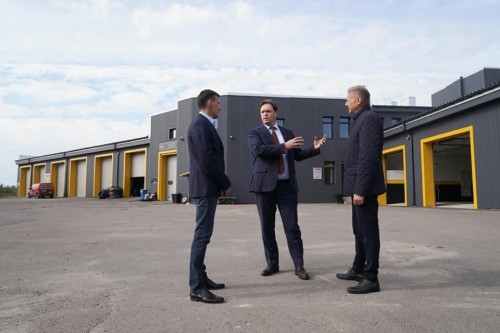 On October 1, 2021, the Chairman of the State Property Fund of Ukraine Dmytro Sennychenko stated during a working visit to Rivne that the legislative initiative to redirect 10% of small privatization proceeds to local budgets will help attract investment.
The Chairman of the State Property Fund of Ukraine visited successful business projects implemented at privatized facilities, where he noted the importance of privatization in the development of the local economy and the development of the private sector.
"First of all, privatization is the transformation of unproductive assets into productive ones. And for this purpose, the State Property Fund of Ukraine has already held more than 1,500 auctions worth more than UAH 2.2 billion since the beginning of the year," Dmytro Sennychenko said.
According to him, this process needs to be accelerated, and legislative initiatives have to help. This is, in particular, a comprehensive bill, which is already supported by MPs in the first reading and which stimulates investment through privatization, as well as legislates the instruments of transparency introduced by the State Property Fund of Ukraine.
"Directing 10% of privatization proceeds to local budgets will motivate local governments and communities to support the privatization of non-core state assets that only crumble over time instead of becoming success stories," said SPFU Chairman Dmytro Sennychenko.
The program of the visit included a visit to the logistics company "Trans-N" and the pasta producer company "VILIS".
Thus, TRANS-N Company is a modern logistics center on the base of a previously privatized unfinished building. Today this company has about 80 units of cars operating in all regions of Ukraine. The company created 300 new jobs, and the new owner built infrastructure and affordable housing for employees.
The second facility, VILIS Company is one of the largest producers of pasta and apple jam in Ukraine. Currently, the company employs 80 people, and it was created on the base of an abandoned vegetable drying plant. The company has three automated pasta production lines, each with a capacity of 2.5 tons of pasta per hour. The company produces more than 15 types of pasta and even exports its products to Italy.