Record in the entire history of Ukraine: in 2021 lease of state property brought in UAH 1.62 billion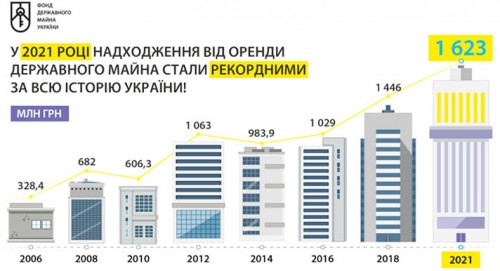 According to the results of 2021, the lease of state property brought UAH 1.62 billion to the Treasury, which is a record revenue for all the years of Ukraine's independence.
The Chairman of the State Property Fund Dmytro Sennychenko announced this.
"The transition to transparent lease auctions and the disclosure of all information about the available objects on the website www.orenda.gov.ua made it possible to significantly increase the efficiency of the use of state assets and ensure record revenues to the State Budget. The indicator - UAH 1.62 billion - is an absolute record in 30 years," Dmytro Sennychenko stressed.
According to the Chairman of the SPFU, such a result became possible thanks to the full disclosure of all information about the leased objects, as well as a transparent bidding mechanism, which ensured the restoration of investor confidence in the State.
"Previously, the procedure for leasing state-owned objects was complicated and lengthy. This took from 6 to 9 months. Not to mention the secrecy of data and numerous cases of corruption. Now you can rent the state assets simply and transparently, even from an ordinary smartphone," added Sennychenko.
In 2021, the State Property Fund concluded 4,700 new lease agreements for a total amount of UAH 542.4 million.
In addition, thanks to the introduction by the State Property Fund of the flexible system of rental benefits for small and medium-sized businesses suffering from quarantine restrictions, tenants saved UAH 160 million.
The plans for 2022 envisage full automation of the processes of leasing state property, which will make the process even more convenient and will completely eliminate the possibility of abuse.