More than half a billion hryvnias from lease of state property - results of the Funds work for 8 months of 2023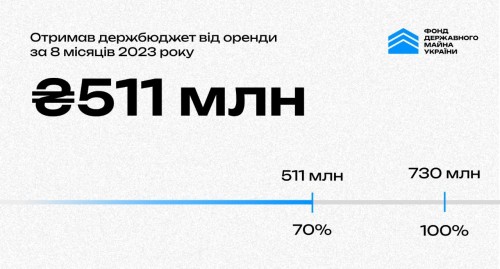 In the first 8 months of 2023, the state budget received UAH 511 million from the lease of state property, including UAH 59.8 million in August. Since the start of the year, the SPFU has executed 1,133 new contracts and conducted over 650 successful lease auctions.
Over 900 entrepreneurs participated in the bidding process, which drove the value of the assets up threefold.
"Leasing state property during the war can be a profitable way to start a business from scratch with minimal risks compared to purchasing property. It requires hundreds of times less start-up capital. Additionally, procedures for lease have been simplified during the war, and mechanisms are in place to reduce initial costs," explains Andrii Shramko, Director of the SPFU's Department of State Property Lease.
There is a separate program for relocated businesses that allows to lease state property on preferential terms. More details can be found here.
The SPFU also supports the Defense Forces, having already transferred over 600,000 square meters of real estate to the military. This means that state assets not only aid in business development but also contribute to our victory.
Today, the SPFU is the largest real estate landlord in Ukraine with the most favorable terms. The Fund currently leases almost 8 million square meters of state real estate, and has over 14 thousand existing lease agreements.
In the past year, from September 2022 to date, rent has contributed over 670 million UAH to the budget. If comparing the rental income for July last year and this year, this figure has increased 3.3 times: UAH 21 million against UAH 70 million. The revenues were used to support the Armed Forces of Ukraine.
The top objects most favored by small and medium-sized businesses during the war, are areas for office space, production facilities or warehouses.
In September, the Fund plans to hold 83 lease auctions. Among them is a building in Kyiv with a total area of 1,643.3 square meters, which boasts a prime location with easy access to transportation near the Zhytomyrska metro station.The tenant can use the building for any purpose, providing a range of opportunities to implement an attractive business project. Additionally, subleasing the property is also a viable option.
Information on all lease offers is available on the website orenda.gov.ua, and in the Telegram channel «Lease in Ukraine».