Over the week, the State Property Fund earned UAH 354 million from the privatization auctions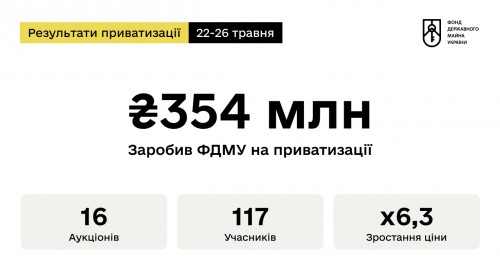 From May 22 to May 26, the amount of winning bids at the privatization auction of the State Property Fund reached UAH 353.6 million. 117 participants took part in 16 auctions, due to the competition, the value of assets increased 6 times from the starting price.
This week, most of the demand was for the privatization of real estate. Among the proposed assets were a veterinary station and buildings in the Lviv region, as well as an administrative building in the Ternopil region. Besides, assets of capital's real estate find new owners – the motor transport enterprise of the Committee of Television and Radio Broadcasting and the Kyiv Hermitage, the winning bid for which has become the largest among all auctions since the start of the resumption of small-scale privatization in September 2022.
From May 29 to June 02, the State Property Fund plans to conduct 24 privatization auctions. For the entrepreneur's attention will be proposed the Complex of Electronmash SOE in the capital,the Research Plant in Mykolaivand buildings of enterprise in Zhytomyr region.
We invite everyone to take part in privatization auctions and make a contribution in favor of the Ukrainian Victory because all the money raised by the State Property Fund goes to the Defense Forces.
More detailed information about auctions can be found on the website: privatization.gov.ua. In addition, we publish announcements with interesting privatization lots on the Telegram channel "Privatization in Ukraine".